Middle School Education at Vardhman Group of Schools: Nurturing the Inquisitive Minds
Welcome to Vardhman Group of Schools' Middle School program, where we ignite the spark of curiosity and inspire the minds of young learners. Our Middle School is a dynamic and transformative phase that bridges the gap between primary education and the higher levels of academia, preparing students for a world of opportunities.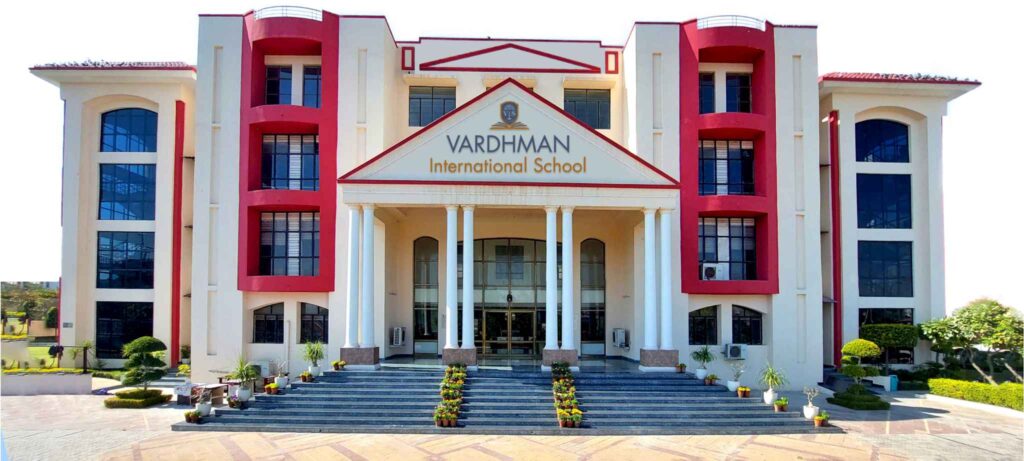 Our Approach to
Middle Education
Key Features of Our Middle School Program
Holistic Curriculum: Our Middle School curriculum is carefully crafted to provide a well-rounded education. We emphasize core subjects such as Mathematics, Science, Language Arts, Social Studies, while also incorporating arts, sports, and extracurricular activities to foster a diverse skill set.

Experienced Educators: Our passionate and experienced educators understand the unique needs of middle school students. They create an inclusive and stimulating learning environment where students can explore, question, and grow.

Critical Thinking and Problem Solving: Middle school is a critical phase for developing critical thinking skills. Through engaging projects, debates, and hands-on learning, we empower students to think analytically and solve complex problems.

Character Education: Beyond academics, we place a strong emphasis on character development. We instill values such as integrity, empathy, and resilience to mold students into responsible and compassionate individuals.

Extracurricular Opportunities: We offer a wide range of extracurricular activities, from sports to the arts, enabling students to discover and nurture their talents and passions.

Transition Support: We provide comprehensive support to help students transition smoothly from middle school to higher secondary education, guiding them in making informed choices about their academic paths.
The Middle School Experience
When you choose Vardhman Group of Schools for your child's Middle School education, you can expect:
A challenging and enriching academic environment that encourages curiosity and creativity.
Opportunities for personal growth, leadership development, and character building.
Regular assessments and feedback to monitor your child's progress.
A supportive community of educators, parents, and students working together for success.
Join Us on the Journey of Exploration
Middle school is a pivotal phase in your child's educational journey, where they begin to shape their academic interests and future aspirations. At Vardhman Group of Schools, we are dedicated to providing an enriching and empowering Middle School experience that prepares students for the challenges and opportunities that lie ahead.
Enroll your child with us today to embark on a journey of exploration, discovery, and personal growth. Contact us for admission details, and together, let's nurture the inquisitive minds of tomorrow.
The Pre-Primary Experience
When you choose Vardhman Group of Schools for your child's Pre-Primary Education, you can expect:
A Safe and Inviting Environment: Our classrooms are designed to be warm, inviting, and conducive to learning. Safety is our utmost priority.

Individualized Attention: We recognize that each child has unique needs and abilities. Our small class sizes enable us to provide individualized attention and support.

Social Development: We encourage your child to interact with their peers, fostering important social skills such as sharing, cooperation, and empathy.

Creative Expression: Art, music, and dance are an integral part of our Pre-Primary program, allowing your child to explore their creativity and self-expression.

Regular Communication: We maintain open lines of communication with parents, providing regular updates on your child's progress and milestones.
Join Us in Fostering a Love for Learning
At Vardhman Group of Schools, we believe that the early years are a crucial foundation for future success. Our Pre-Primary Education program is designed to ignite a lifelong love for learning while nurturing your child's growth and development.
Enroll your child with us today and watch them flourish in a supportive and enriching educational environment. Contact us for admission details, and together, let's embark on this exciting educational journey.